Ecuador Family Vacation Tour 12 Days
Organized by: Tour Operator with 27 years of experience and expert in tailor made Tours in Ecuador, Galapagos Islands and South America.
ECUADOR PROGRAM IN 3 STARS HOTELS
Day 1. ARRIVAL IN ECUADOR ~ QUITO
Arrive in the evening in Quito, the capital (9,350 ft). Transfer to a charming 3* hotel in the historic centre. Welcome drink. Overnight in Quito.
Day 2. QUITO: EQUATOR LINE ~ MINDO CLOUD FOREST
Visit to Quito's historic center, recognized by UNESCO: World Cultural Patrimony or cable car up to the Pichincha Volcano (13,400 ft.), with panoramic view of Quito and the Andean mountain ranges (or Cordillera) and possible walk or horse-back riding. Then visit to the Middle of the World Monument or the interesting Inti Nan Ethno-Scientific Museum. And short drive to Mindo cloud forest, famous for its birds, butterflies, waterfalls, chocolate and adventure sports. Coffee or chocolate break at an observatory of humming birds. Good Pizza dinner. Overnight stay in an Eco chalet around nature.
Day 3. MINDO CLOUD FOREST ~ QUITO
Birdwatching or visit to a butterfly forest and tubing down the river or canopy above the forest. "Tilapia" lunch. Visit to a small chocolate factory and brownie confection. Then drive back to Quito. Overnight stay in the hotel in Quito or in a country inn in the region.
Day 4. QUITO ~ OTAVALO
Drive to the beautiful Andean region of Otavalo, famous for its volcanoes, lakes, condors and Indigenous culture. Visit to the well-known Indigenous market of Otavalo displaying all the Ecuadorian textiles and handicrafts. Visit to a Condor park or other activity or walk around the beautiful Cuicocha Lake. Transfer to an Indigenous community. Spend time with a family to learn about their agriculture, ways of living, handcrafts, etc. Dinner and overnight stay at a family home.
Day 5. OTVALO ~ COTOPAXI VOLCANO
Transfer to Ibarra train station and travel by train across the Andean region of Cayambe volcano to the subtropical Chota valley. Arrival at an Afro village. Cultural presentation. Then drive to the Avenue of the Volcanoes to the Cotopaxi Volcano. Dinner and overnight stay at an Eco touristic hacienda or a mountain inn at the foot of the Cotopaxi.
Day 6. COTOPAXI VOLCANO~ QUILOTOA LAKE
Horse-back riding at the Cotopaxi national park or close by. Tour of the Cotopaxi National Park with possible hiking up to the refuge (not recommended for children under 11). Then short drive to the amazing Quilotoa Crater Lake. Possible Tour of its Indigenous village. Dinner and overnight stay at a nice community or country inn.
Day 7. QUILOTOA LAKE~ BAÑOS
Possible walk down the border of Quilotoa Lake or around it.
According to the day, possible visit to a typical Indigenous market.
Drive up to the charming thermal town of Baños, located at the foot of the active Tungurahua Volcano. City tour and hot spring bath or Swimming at the End of the World. Overnight stay at a charming hotel or family inn in Baños.
Day 8. BAÑOS ~ PUYO
Soft Mountain biking along the Waterfall road or other activity. On the way, "tarabita" crossing Pastaza river. Walk to the spectacular Pailon del Diablo waterfall, one of the biggest of Latin America. Then drive to Puyo, "the gateway of the Amazon", to a botanic farm. Vegetarian lunch. Tour in its park to know about the tropical plants, trees and the ones in extinction. Boat tour. Bathing in the river. Vegetarian dinner and overnight in the farm.
Day 9. PUYO ~ AMAZON
Drive to the Amazon region of Tena. Arrival at Napo River, tributary to the Amazon or Arajuno River then canoe transfer up to an Eco lodge with swimming pool in the middle of the jungle. Lunch. Leisure time or possible tour. Possible night walk in the forest to observe insects or other small animals. Dinner and overnight in the lodge.
Day 10. AMAZON FOREST ~ KICHWA COMMUNITY
Very early canoe transfer and short walk up to a clay wall to observe an amazing encounter of parrots. Breakfast then walk in the primary and secondary forest to observe its flora, medicinal plants, giant trees, insects, monkeys, birds etc. And possible swim in the river.
Return to the lodge, lunch. Leisure time. Then cultural activity and exchange at a Kichwa Indigenous community, meeting with its inhabitants who will show you their way of living, their banana, cocoa, papaya, yucca plantation and how to make their ancestral "chicha" beverage. Possibly they will offer you their traditional dishes and the children will dance for you.
Exhibition of the Kichwa women handcrafts and possible purchase of souvenirs. Dinner and overnight stay at the lodge.
Day 11. AMAZON ~ RAFTING ~ PAPALLACTA HOT SPRINGS ~ QUITO
Last breakfast in the rainforest, then transfer to Jatun Yacu River and Rafting security briefing and Rafting down this river. Then drive back to the Andes.
On the way, possible stop to enjoy the well-known hot spring pools of Papallacta (entrance of U$ 10 not included). Overnight stay in a hotel in the center of Quito or close by the airport.
Day 12. QUITO ~ FLIGHT BACK HOME
Or Flight To The Enchanted Galapagos Islands for a great Cruise or Island Hopping Tour of 5 or 8 Days
This tour can be modified after its purchase
Rubber boots for amazon excursions (from size 6 to 12)
1st and 3rd Sunday of each month
(Availability and lodging will need confirmation)
Tour operated by: Tour operator and travel agency with 27 years' experience and experts in tailor made tours in Ecuador, Galapagos Islands and South America: Peru, Colombia, Bolivia, Chile, and Argentina…
Their services are top notch, personalized and the quality and variety of their tours are amazing.
They take pride in showing their customers the most beautiful and unique places in each country, in providing them the most professional tourist guides, the most charming local hotels, the best Galapagos cruises or Amazon cruises and tours, the cheapest air tickets… in order to make your tour an unforgettable life experience.
Their very professional staff remains at your disposal in fluent English, Italian, Spanish or French.
---
---
---
---
---




















Desde:
$2,010.00 USD
por persona
---
---
Seleccione los participantes:
Buscar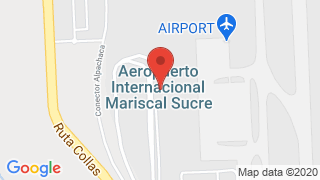 ---