El Cajas National Park
The Cajas National Park looks like a landscape painted by the perfection of its features, mountains, in addition to its 235 lakes and lagoons that look like bluish mirrors.



El Cajas
In Cajas National Park, 20 km from Cuenca city (Ecuador), 29,000 hectares of Andean moorland invite camping, walking, sport fishing, bird watching and other species. You can also eat and very delicious. The local dish, so to speak, is rainbow trout. Its pink meat looks good with garlic, with cream, Parmesan, mushrooms, vegetables, bacon, among other ingredients.
Cajas Ecuador, from Cuenca, to the refuge of La Toreadora in the park (central point for the start of activities in the area) there are 35 km. away
Cajas National Park, of 29,000 hectares, integrates the western Andes mountain range and is located in Azuay Province, 34 km west of the city of Cuenca, on the Cuenca-Sayausí-Molleturo road. It is between 3,000 and 4,500 meters above sea level, 2 ° 42 'and 2 ° 58' south latitude and 79 ° 05 'and 79 ° 25' west longitude.
The Park area is within the rural parishes of Sayausí, San Joaquín, Chaucha and Molleturo, of the Cuenca canton. The Ministry of Environment incorporated it into the National System of Protected Areas of Ecuador, as it has outstanding archaeological characteristics, values ​​and exceptional qualities that are part of the national objectives of conservation and protection of valuable cultures.
National park Cajas tourism, in the area of ​​el Cajas is the only bastion of the Austro Cloud Forest, located between the Llaviuco lagoon and the Taitachugo lagoon. As species that grow at higher altitudes are pure quinoa stands (Polylepis) or paper tree, among others.
The most outstanding wealth of the Cajas National Park, undoubtedly constitutes its lagoons, next to which several types of communities live. This water wealth is reflected in more than 232 lagoons, which give rise to the Yanuncay River and Tomebamba River, which cross Cuenca City. Tomebamba river supplies the water that the city and its surroundings require for its purification.
The Park is a paradise for sport fishing enthusiasts, who can find in the lagoons a large number of trout, the most important fish species in the Park. In this wonderful place of nature also live a large number of bird species, some of them in danger of extinction.
National Park El Cajas Weather The park is established in two periods: summer, from August to January, with strong winds, intense sun during the day and frost at night, the minimum temperature is eight degrees Celsius at night and 12-18 degrees Celsius during the day; winter, from February to July, with rainy or drizzle seasons, days with fog and snowfall, minimum temperature of two degrees Celsius below zero and maximum of 8-10 degrees Celsius.
National Park Cajas cost There is no cost to enter the National Park
A wide diversity of flora and fauna, which due to its endemism (species that, worldwide, exist only in certain specific areas), make the park the ideal place to enjoy a walk through which we will know the cultural history and Natural of the Southern Andes of Ecuador.
As a control tool to preserve the environmental integrity of each visit site, since 2011, the tourist load capacity limits of the Recreation Areas of El Cajas National Park have been applied, based on a technical-scientific analysis that seeks to balance the physical capacity of a tourist center in contrast to the limiting factors that act on it (physical, environmental, social and biological) to find the optimal number of visitors who could use the same space in a day. This is intended to improve the number of visits, thinking about tourist satisfaction, but above all in the conservation of natural resources.
El Cajas National Park Flora and Fauna
The representative flora of the Cajas is grouped in forests that include trees and shrubs of regular size (10 m); chaparros, which are plant species up to five meters high; meadows, forests that include woody plants; and grasslands with the predominant species that is straw. We found residual trees of sarar, pichul, yellow, red quinoa, ferns, moss, orchids of different genera.
The Cajas National Park has a variety of species such as puma, huri, raposo, chucurillo, añaz, fox, guatusa, augur, deer, yamala, danta, spectacled bear and bat. The birds identified are the hawk, tile, condor, grass pituyo, curiquinga, chaupau, chirote, hawk, seagull, swallow, owl, blackbird, woodpecker and zhiro ducks, white, yellow and blue-winged, mount turkey, partridge, poll.
---
Documentos Adjuntos:
---
---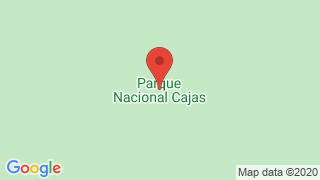 ---
Publicado en: