A tour to eat cheese in Guaranda
Here you not only live the best carnivals, in this place you can enjoy the best cheese flavors of the country made by its community in the rural parish Salinas de Guaranda.

To think of Guaranda is to think of carnivals, but let's look further. Here there are new spaces for excursions in nearby towns, which are part of the province of Bolívar . On this occasion we visited Salinas de Guaranda, a parish that offers you a range of tourist alternatives.
The trip begins with telling you that a successful community tourism model was developed here, a management model that allows the community to take advantage of the natural and/or cultural heritage of the region.
Salinas de Guaranda cheese
The development of community agroindustrial activities such as cheese making and its derivatives that are promoted under the brand "El Salinerito" stand out. The products reach international markets in Europe and Japan. In 2018 alone, two million five hundred dollars was obtained from marketing to Italy, Spain, Switzerland, Japan, Germany and the United States.
History tells us that in the 70's José Dubach arrived from Switzerland to this sector of Ecuador. He, along with Samuel Ramírez, Gilberto Vargas, Edgar Vascones, implemented the dynamization and industrialization of the products. And they were the first students and founders of the artisanal cheese making technique. All this adventure began in the house of a family in the community, subsequently the experts sought a more suitable place for the elaboration of dairy products.
Several years later a small community cheese house was built, which received at least 50 liters of milk a day. The raw material allowed to experiment and manufacture five varieties of artisanal, mature and semi-hard cheeses of high quality.
Already in the factory we knew the traditional way to prepare the cheeses and tasted the Dambo, Andino, Tilsit, Gruyer and Parmesan cheeses. These are the products that have been manufactured and marketed, since June 1978.
Currently, "El Salinerito" products are sold in stores and supermarkets in Quito, Guayaquil, Cuenca, Ambato, among other cities. On the trip you can buy 22 varieties of fresh, ripe, semi-mature cheeses, and cheeses with spices such as oregano, pesto, chili, moringa, ginger, garlic and cumin.
Martha López, a native of this sector, told us that the success of Salinas de Guaranda is not only due to cheese production. The economy model is reproduced in community craft factories of 250 products including chocolates, spinning and textiles, essential oils, balls, crafts and infusions. To this is added the tourist services that have allowed a successful development.
In addition, in this destination there are several tourist attractions where you can enjoy a pleasant walk through the salt mines, the cliffs, the Tiagua caves, the Diente del Inca mountain, and the Peña Blanca Protective Forest, in Salinas de Guaranda.
The surrounding areas also offer different alternatives. For example, if you want to have a more intense experience, we recommend you visit Yacubiana, a community dedicated to adventure tourism. Here you can go horseback riding, rock climbing (out of series experience), and bike rides.
Sit close to the sky, visit Salinas de Guaranda, province of Bolívar. This is the ideal place to meet successful models of community micro businesses. It is also an area where you can spend moments of relaxation and recreation.
Distances from Salinas de Guaranda to other cities
206 km away from Guayaquil
239 km away from Quito
Location Salinas de Guaranda
It is located at 3,500 meters above sea level (masl), which allows you (almost textually) to be closer to the sky. Its average temperature is 11 ° C..
---
---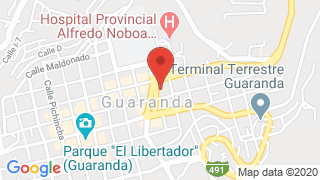 ---
Publicado en:
---
Publicado por: