Zumbahua
The rural parish of Zumbahua belongs to Pujilí canton of the Cotopaxi province. It has several tourist attractions and tourist activities. Location, How to get there?Transportation.

Zumbahua Parish is one of the destinations with the greatest influx to practice rock climbing, it is located in Cotopaxi province, in Pujilí canton in Cocha Uma town.
Cocha Uma is located in Pujilí canton, in the buffer zone of Los Ilinizas RE, It is one of the alternatives to enjoy rock climbing adventure sport, it has a total of 31 routes established and identified for sports practice, ranging from 10 to 80 meters high, fully equipped.
It has an altitude of 3900 meters above sea level.
Zumbahua Climate: The weather varies between 8 ° -18 ° and most importantly you can visit this place throughout the year.
Zumbahua current population: 11,895 inhabitants
From the nearest city: From Zumbahua Parish it is 4.5 km along the road to La Mana, and from the partisan to the right about 3 km more by third order road.
Zumbahua, Quilotoa
One of the most outstanding attractions of Zumbahua is Quilotoa lagoon, a lagoon that has a turquoise tone, and in this place you can perform adventure activities, such as kayaking, trekking.
Zumbahua tourist attractions
Main attractions of Zumbahua are:
Inca Cave
Condor Matzi
Chicho thermal water
Cerde Cocha Complex
Yurak Yuksi Mountain Range
Toachi river canyon,
Zumbahua Market, It stands out for exhibition of handicrafts in the area.
Zumbahua Tourist facilities
Bathrooms: NO
Trails: YES
Signaling: YES
Spring: NO
Parking: NO
Camping area: YES
Zumbahua tourist services
Accommodation: Cabañas Quilotoa, Pachamma Quilotoa, Chosita, Chukirawa, Mirador Oro Verde, Posada de Tigua La, Crater Lake, Alpaca Quilotoa, Community Organization for tourist development Lago Verde.
Restaurants: Lago Verde Quilotoa Restaurant, belonging to the CTC Lago Verde, located at the entrance to the Quilotoa Lagoon
Operators: Tovar Expeditios Greivag Turismo, Neiges, Ecochasquis Expediciones, Ecotrailec
Zumbahua how to get there
Transportation: Cottullari Tourist Transportation, Comilpatria Tourist Transportation, Cotopaxi Interprovincial Transportation.
To get to Zumbahua you take a bus from Latacunga Terminal, by intercantonal transport "Vivero" or "Ilinizas" until you reach Zumbahua. From there by van. Cotopaxi Interprovincial Transport Company
Cost: 2 USD
Zumbahua Gastronomy
They have maintained the tradition of ancestral flavors that have been worked with new ingredients to enhance their meals.
Typical dishes have as main ingredients barley, beans and peas. Which are used to make exquisite dishes. Additionally it is also characterized by preparing food such as:
Machica with pork rinds
Roasted guinea pig kariuchu
Sweet Barley Rice
Creole chicken broth
Lamb Broth
Purple laundry
Corn pouring
the traditional fanesca
Popular celebrations and commemorations Zumbahua
Feast of Santo Rumy, Three Wise Men - January 1
Zumbahua Carnival
Holy Week (Easter of Resurrection)
Corpus Christi June
Parish Festivities: June 16
Harvest Festival: August
Day of the Dead: November 2
---
---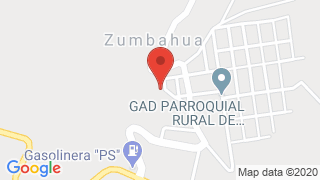 ---
Publicado en:
---
Publicado por: