Machala Ecuador
The World Capital of Banana has an exceptional landscape, and the warmth of the people of Machala is a reason to return again and again. Learn more details.


The World Capital of Banana
The city has recently become the center for the crystallization of important businesses and the opening of large companies. Machala, through the urban regeneration it has undertaken, enjoys new recreational sites, worthy of being visited.
Machala is the capital of the province of El Oro, also a productive agricultural canton with a great commercial movement, becoming the economic hub of the south of Ecuador.
Machala Tourism
Places to discover in Machala
Cultural Walk: The modern Machala offers a wide variety of parks, which citizens and tourists can visit quietly.
Cathedral Church: It is a religious building that was built on the first cemetery of Machala, is located in the Plaza de Armas Central.
Puerto Bolívar: It is located on the eastern edge of the Santa Rosa estuary in southern Ecuador, in the province of El Oro, and is the second shipping port for bananas.
Isla del Amor: It is an ideal place for nature lovers, since it develops a variety of species. Located 5 minutes by boat from Puerto Bolívar.
Machala Weather
The climate here is considered a local steppe climate, during the year there is little rain and the average annual temperature is 25.2 ° C. There is around 489 mm of precipitation, the driest month is August, with 11 mm of rainfall. Most of the precipitation here falls in March, averaging 116 mm.
Machala Typical Food
The gastronomy of the World Capital of Banana is as follows:
Rice with shrimp: Shrimp are seasoned with salt, pepper, cumin and garlic. A refrito or stir fry is prepared with onion, pepper, tomatoes, parsley, cumin, achiote and white wine that is mixed with rice and shrimp. Shrimp rice is served with avocados, onion tanning, tomato, and chili pepper. It can also be served with fried ripe bananas or patacones.
Ceviches: Machala offers many varieties such as shrimp, shell, fish, mixed ceviches, all of which are accompanied by patacones and rice.
Rice with stew: lentil stew, cooked slowly with onion, pepper, tomato, garlic, cumin, cilantro, and served with rice, roast or fried fish and patacones.
Seafood-based dishes such as: shell sweat, shrimp, fish, crab
Machala typical drinks
Desserts in Machala
Banana cake: it is a sweet that is composed of a base of banana dough, milk, flour, sugar, baking soda, oil among other ingredients.
Culture and traditions of Machala
Patron Saint Festivities: on September 24 a tribute is made to the Virgin of Mercy, in these festivities the election of the World Banana Queen is made, with the participation of candidates from several countries that produce and export the fruit. During this month the Fairs are held in the Chamber of Industries, the Banana Fair, as well as the exhibitions and artistic presentations.
Cantonization: June 25, cultural and social events take place. Literary competitions, pictorial and artisanal exhibitions are held; parades with floats and civic-military parade and popular dances with artistic presentations.
Month of the arts: In August the House of Culture organizes a series of artistic-cultural events, pictorial exhibitions, etc. including free water rides in Puerto Bolívar.
Puerto Bolívar Foundation: December 18.
Machala history
In 1820, Machala joined the Guatemalan independence movement, representing himself with a star in the Flag of Guayaquil. In 1822, the creation of the Province of Tomalá is tried, formed by many cantons, among them, that of Machala with its parishes: Puná, Balao and Naranjal; the capital was meant to be Santa Elena. Machala was declared canton of the Province of Guayas, this was part of the Department of Guayaquil on June 25, 1824 through the Law of Territorial Division of Gran Colombia. In 1829, some locals joined the army of Sucre and fought in the Battle of the Portete de Tarqui.
In 1861, the people of Machala rebelled against Gabriel García Moreno, supporting Francisco Robles and José María Urbina. On September 30, 1864, upon realizing the advance of García Moreno's army, the locals had gone to Santa Rosa to disembark through their River Port and gain ground, it is there, in Jelí, Pital and Santa Rosa, the Machaleños fought until defeating the troops of García Moreno, who were led by Flores, who, mortally wounded by Carlos Chale, died when he was taken to Guayaquil.
---
---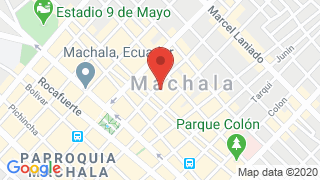 ---
Publicado en: