Zaruma Historic Center
The Historic Center of Zaruma is an important tourist attraction of the province of El Oro in Ecuador. It was declared Cultural Heritage architecture used in the old houses stand out in the landscape town.


Cobblestone streets, old houses of one, two and three floors made of wood and built on the irregularity of the site's topography, trace a free geometry.
The historic center is made up of heritage houses, the traditional architecture of houses with balconies, windows, corridors and arches reflect a colonial and republican style. Tourists are impressed by the skill and ingenuity of these constructions as well as the mixture of cultures. The historic center comprises 81 hectares. Zaruma was declared a cultural heritage site in 1990 and is listed in the World Heritage Indicative List since 1998.
Those who visit it are really impressed, you can say that it is a place where it seems that it only exists in fairy tales. The kind people of Zaruma welcomes tourist sites, there is also a great gastronomic culture.
What should you know?
Climate Zaruma
It has a subtropical climate, pleasant and temperate, dry from May to
November and wet in the rainy season. It has an average temperature of 22 ° C day and night, which makes it cozy throughout the year.
Zaruma gastronomy
The Zaruma canton has delicious delicacies and the main ingredient is plantain.
Tigrillo, made with plantain, egg and cheese is one of the Typical dishes preferred by tourists and residents.
Zaruma Tourist Sites
The main tourist sites of the historic center of Zaruma are:
Heritage Buildings

Houses that were built at the beginning of the century. The beautiful wooden facades are an architectural art.

The construction of the Sanctuary was carried out between 1992 and 1930. It has three ships; in the Right Side Ship are paintings representing the Old Testament, in the Left Side Ship there is the New Testament and, in the Central the Main Altar bathed in Gold and silver is a heritage asset of Zaruma.

Collections of well-preserved pieces of great artistic, historical and scientific interest are exhibited.
---
---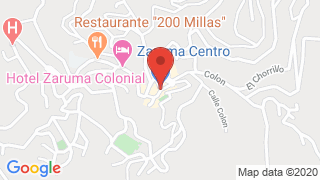 ---
Publicado en: