Sanctuary of the Virgin of Carmen
It constitutes a jewel embedded within its rich heritage, which each tourist contemplating it is dazzled by its beauty.




What should you know?
Sanctuary of the Virgen del Carmen, is the parent church of the city de Zaruma, is located in the Plaza de la Independencia, built between 1912 and 1930, its architecture and construction is made of wood, saturated with balconies and wooden coffered eaves and hanging chandeliers, its exquisite altar carved and lined with bread gold and silver, constitutes a jewel embedded within its rich heritage, which every tourist contemplates is ecstatic in their beauty.
Address: Calle 9 de Octubre
Office hours: Daily 8:00 a.m. to 6:00 p.m.
Cost of admission: Free
Sanctuary of the Virgin of Carmen Zaruma
Architecture and details of the Sanctuary
Architecturally, it has three naves: in the lateral right nave you will find paintings that represent the Old Testament, on the left side nave is the New Testament and in the central nave the High Altar that is bathed in gold and silver leaf; Here we find the patron saint, the Virgin of Carmen.
In addition, we can observe minor altars where there are images that are of devotion to the locality.
This Sanctuary was built thanks to the collaboration of the miners, ranchers, farmers and the general community of that time, since they contributed with economic resources.
Regarding the interior of the Church: Inside there is a conjunction of styles excelling the Gothic style, and you can appreciate the presence of Mudejar art in its ceiling. Currently the main altar, side altars, and the altar of the Virgin of the Swan, are coated with gold leaf.
---
---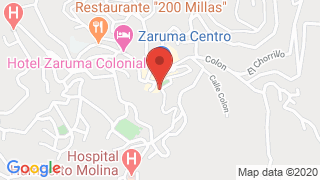 ---
Publicado en: