Los Ríos Province
Los Ríos Province - Ecuador is a place very rich in vegetation that is why its natural attractions are very particular, it is the home of the montubio, with cultivated fields, farms, rivers and attractive customs for the visitor, know more here.

Los Ríos, happy land of the famous montubio rodeo
Province crossed by several rivers that will go to the Guayas river basin, where there are natural freshwater beaches and spas: Vinces river, Salto river, Seco river and Chilintomo, as well as river ports such as: Quevedo, Ventanas, Babahoyo, Catarama and Ricaurte.
Agricultural land par excellence, inhabited by the "montubios", where you can find small and large crops of: banana, African palm, cocoa, coffee, rice, palm, sugar cane, etc.
In the province we can find large Los Ríos estates recognized for their history and for their production such as: La Elvira, La Virginia, Isabel María, La Clementina, and the Río Palenque Scientific Station.
Tourism in Los Ríos
Places to discover
Playas del Salto (Salto beach): Natural attraction with a capacity of 3000 to 5000 people, located 10 minutes from Babahoyo by land and waterway just 2 minutes.
Babahoyo River: Natural attraction that has a lot of history, there are currently floating homes located on its surface.
Quevedo Zoo: The Zoo has a large infrastructure and a natural, cultural and educational recreation area
Río Palenque Scientific Center: it is one of the last tropical forests of the Ecuadorian coast with more than 100 hectares of crops and more than 700 species in its fauna.
Playas del Salto: it is an excellent place to enjoy a day full of fun and adventure in Babahoyo city
Los Ríos Climate
Los Ríos province climate is not very diverse, since in the most part of the territory it behaves in a homogeneous way.
Tropical Megatérmico Humid Climate: In the Northeast end by the Valencia canton, it is characterized by registering only a rainy maximum and a single very marked dry season, accompanied by average temperatures above 22 ° C and rains ranging from 1000 mm to 2000 mm. As an annual average.
Semi-humid Megatheric Tropical Climate: In the extreme southeast by the Urdaneta canton, it is characterized by registering only a rainy maximum and a single very marked dry season, accompanied by average temperatures exceeding 22 ° C and rains ranging from 500 mm to 1000 mm
Semi-humid Mesothermal Equatorial Climate: Characterized by the annual rainfall of 500 to 2000mm, it has two rainy seasons that oscillate between February-May and October-November, the average temperature ranges between 12 and 20 ° C. This type of climate occurs in the high areas of the Ricaurte parish and the Montalvo canton.
Los Ríos Culture and traditions
Rodeo Montubio: It is a popular and traditional national holiday, an event that is usually held every year with the participation of cowboys from several farms mainly from the coast and including the Sierra, where you can enjoy musical shows by more popular artists of the moment and enjoy the typical foods of the province in the surroundings of the square. The main places where these events take place are: Pimocha Parish, Febres Cordero Parish, Caracol Parish, Clementina Farm.
Fiestas Quevedeñas: The festivities of September and October are presented as a magnificent opportunity to show the best values ​​and cultural, historical and traditional elements of the canton. It is suggested to work in a significant event, of international connotation, such as the National and World Queen of Cocoa, incorporated and institutionalized to the events scheduled in each year.
Los Ríos Gastronomy
In Los Ríos province, several are the typical dishes that are a true delight to taste, truly unique dishes that anyone wants to taste, made to publicize what are the customs and gastronomies that exist here.
Among many typical dishes we can mention the following:
Rice with stew and roasted meat: This characteristic dish of the coastal part, the stew can be beans or lentils, which are often grown in the fields of several landowners and carefully chosen to prepare this delicious stew along with the meat of beef and rice also sown and cultivated in the fields of this productive province.
Fish bun: The buns prepared with green or banana, the best in the province, are mostly made with "small mouth" fish, characteristic fish with which they prepare most of their typical dishes such as casserole Fish and of course the named bun.
Ayampaco: This dish is often found Balsapamba. There are still people who make them under the recipes that their successors made known to them and that passed from generation to generation.
Mazamorra: The mazamorra is prepared and very frequently during the harvest season of choclos, it is a kind of custard made with corn, milk, sugar and cinnamon. A delight that cannot be missed when visiting the so-called green province.
Los Ríos History
Babahoyo was raised in very remote times by the legendary Babahuyus Indians, members of the Huancavilca confederation, who in 1535 offered stubborn resistance to the Spanish conquerors. Pacified the region, in 1596 it was organized as Tenencia, under the Guayaquil Department. It is believed that the year of 1796 Captain Carlos de Betember y Platzaen, acquired their territories with his peculium money and began the uprising of a city they called "Santa Rita"; but it has been documented that this is not the case, since the population of Santa Rita de Babahoyo is much older.
Originally it occupied the right bank of the Babahoyo River, and in colony times, it became an important commercial traffic center between the towns of the Coast and the Sierra, for a long time it was called Bodegas, because Customs and Royal Warehouses had been located there to control the commerce between Guayaquil and the cities of the Ecuadorian Sierra.
Once the independence of Guayaquil was achieved, the news covered almost the entire coastline and much of the mountains. For this reason, the love for freedom increased and little by little the feverish people proclaimed their breaking of the Hispanic chains. Bodegas de Babahoyo would be one of the first, since just two days after the pronouncement of Guayaquil, it would also make public its declaration of freedom signed by its children. Babahoyo has been in Ecuadorian history a city distinguished by heroic children and workers who have not wanted to discharge deadly blows to their land either in fires, floods and droughts. On October 11, 1820, Babahoyo proclaimed his political emancipation and became the main city of organization of the liberating forces to the homeland.
---
---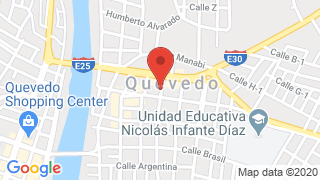 ---
Publicado en:
---
Publicado por: