Machalilla, Puerto Lopez
Machalilla - Ecuador, has a rich and varied ecosystem, it is a place where you can find marine reserves, pre-Columbian cultures, lovely beaches that bathe the Manabi coast. Know more about this heavenly place.


Puerto Lopez Ecuador
If knowing the country were a civic duty, we would be encouraged to live, respect, care for and admire that cultural diversity that each region hides, accompanied by the imposing mountains that guard the inter-Andean alley, the natural laboratories that present the Galapagos Islands and the Amazon, and that silhouette that bathes the Pacific in a coastal profile of 2,800 kilometers illuminated by the equinoctial sun.
It is pertinent to make a parenthesis and start with a question
Machalilla Ecuador
From Esmeraldas to El Oro one of the best routes in the world opens itself to enjoy the winding Pacific coast, nuanced by landscapes that dazzle by the presence of rich living cultures, treasures full of cliffs, hidden beaches and crafts, which mix the natural charms and unique archeology and gastronomy.
Maybe this motivates you to take a trip. Does it sound idyllic? But let's not exaggerate, only one sample is the Machalilla National Park. This exotic place awaits you with lush beaches, marine reserves, charming villages and a rich pre-Columbian history. You still don't dare? I tell you more. This is one of the most extensive protected reserves on the Ecuadorian Pacific Coast. It is located southwest of the province of Manabí and owes its name to the ancestral culture that inhabited these lands between 1800 and 1000 BC.
Machalilla National Park
Machalilla, thanks to its location, has a rich tropical forest ecosystems, marine reserve, coral reefs, humpback whale watching, about 81 species of mammals, 270 varieties of birds, 143 types of fish and 150 species of unique flora on the planet. In addition, it is listed as one of the most biodiverse coastal areas of the continent, which annually attracts thousands of foreign visitors.
Even more, the most famous beach in the Park, Los Frailes, is a peaceful cove of white sand, surrounded by high cliffs and a magnificent tropical dry forest. In this heavenly corner, visitors can enjoy a warm bath, snorkel, visit tiny neighboring beaches or simply enjoy their scenery.
I have told you several tourist virtues of this National Park and I will briefly include other points of attraction, so you can pack.
Humpback Whale Watching
The tourist center of Machalilla is Puerto López, starting point for excursions to observe humpback whales and visit the Island of La Plata. This charming fishing village offers a variety of accommodation and places to taste a 'fried camotillo', at the foot of its beach.
We move forward Isla de La Plata, for its exuberance and great diversity reminds us of the splendor of the Galapagos Islands. Surrounded by rocky reefs and populated by an interesting birdlife, similar to that of the Archipelago. It is also considered a privileged dive point for its marine reserve.
And if you love ancestral peoples, I invite you to know more than 5,000 years of history in Agua Blanca community, a place to discover traces of pre-Columbian cultures. It offers community tourism, self-guided trails and an archeological museum.
I know that I am convincing you and I will give you three more reasons:
San Sebastián, a town formed by drizzle forest in the heart of the Park; home of birds and mammals like the anteater and the howler monkey.
Salango and El Ahorcado Islands are located 7 km from Puerto López. They are an attraction for diving, because of the variety of fish and rocky and coral reefs.
With these paradisiacal descriptions it is time to abandon routine! Discover this natural and archaeological heritage. Remember this: sightseeing teaches us to love our country much more, because it allows us to recognize ourselves and value its rich culture.
Only one important tip in your trip, if you visit any corner of Ecuador, keep in mind that tourism is one of the alternatives to foster a sustainable economy that takes care of the environment and builds a more harmonious world between living beings and nature, so Take care and respect the beaches and their surroundings!
Include in your list of trips to the Machalilla National Park and fall in love more with Ecuador.
Source: Ecuador Travel
---
---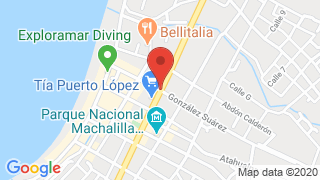 ---
Publicado en:
---
Publicado por: