Rocafuerte
Canton Rocafuerte known as the "White city of bell towers", with a legendary fame for making traditional sweets


Rocafuerte Canton
Rocafuerte is a canton in the province of Manabí, located in the center of Ecuador.
Rocafuerte natural, ecological and artisanal wealth make it unique in Manabí. And handicraft is one of the most important potential source of work in the canton, the craftsman gives life to the tagua and creates innumerable and ingenious models that are hand carved and that every day thousands of tourists come to the Sosote site to acquire the figures made with tagua. In the urban area of ​​the canton, artisans manufacture with different types of wood: scissor chairs, sloths, kitchen utensils, frames, etc. Which are marketed throughout the country.
Rocafuerte Limits: It limits to the north with the cantons Sucre and Tosagua, to the south with Portoviejo, to the east with Junín, to the west with Portoviejo and Sucre.
Rocafuerte Climate: Its climate is tropical with an average annual temperature of 25º C. It is a traditionally agricultural town and its production is determined by the geographical area, which allows the cultivation of cotton, corn and rice on a larger scale. Because of its potential, in rice production, this canton is known as the Manabí barn.
Canton Rocafuerte tourism
Rocafuerte has natural and cultural tourist attractions
Rocafuerte tourist attractions
Natural tourist attractions are:
Freshwater resort El Cerrito de Rocafuerte.
Las Jaguas Freshwater Spa
Rock - White Virgin of Las Peñas
Los Pocitos freshwater spa
Puerto Loor freshwater spa
Wetland El Tabacal
Cultural tourist attractions are:
Our Lady of Carmen Temple
Rocafuerte Central Square
Canton Rocafuerte gastronomy
It is a prosperous territory where the elaboration of the best sweets in the province of Manabí are made, where more than 300 varieties are prepared. The fame of sweets is legendary and its unmistakable taste. The alfajores, sandwiches, fig candy, guineo, sweet potato, rompope and other delicacies have jumped borders, this through Ecuadorians abroad.
The most recognized typical dish in the area is the tonga.
Popular festivities of Rocafuerte
The most important celebrations are:
The festivities in tribute to the virgin of El Carmen, on July 16, the demonstrations of love to the patron saint and novenario in her tribute are a tradition that has been preserved since the times of the colony, the commercial party with mechanical games and sales of different articles attract the presence of citizens, ballrooms on the public roads offer the possibility of having fun, music and drink is shared in this celebration;
Festivities of Saint Peter and Saint Paul on June 29 from the first days of June are white, black and artillery governments.
Cantonization Festivities in Rocafuerte and Valdez the joy is evident during the season and on September 30 the date of cantonization.
Rocafuerte tourism
Mayor: Pacific Zambrano Vaca
---
---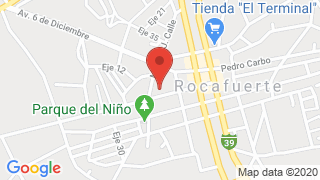 ---
Publicado en:
---
Publicado por: