Rafting in Pastaza River
In Pastaza canton we can find the Pastaza River, where rafting takes place, which over time has become an adventure activity that Ecuadorians and foreigners like.




Pastaza River
Ecuador is crossed by corrientosos rivers with small and large waterfalls along the Coast, Sierra and Amazon. This forms easy access routes for beginners and experienced rafters and kayakers, sports that have national competitions.
From Baños it is 74 km away and 7 tunnels are crossed and from Tena to 79 km and from Macas to 68 km, it is a place full of magic, the same that can be enjoyed with a group of people, we invite you to be part of this paradise.
Technical information:
Location: Río Pastaza
Ecosystem: Low Premontane
Climate: Warm humid
Best season (months): August-September
Degree of difficulty: Medium
Distance (m): 19KM From Puyo
Altitude (masl): 1050
Time (hours): 1 hour
Type of road: Asphalt and ballast
Beginning - end of activity: Beginning at the entrance to Cumandá and one hour journey to Madre Tierra and departure.
Hours: 08h00-15h00
Cost of admission: minimum per person is $35
Public transport: operating agency package
Facilities
Parking: Yes
Tourist Services
Accommodation:
Hostal Esmeraldita: Owner María Quiñonez, Address Av. Padre Luis Jácome, Telf 0327975133.
Shell Inn: Owner Olga Quiñonez, Calle Luis Carrión y Pastaza, tel. 032795365.
Cabañas Germany: Owner Hilda Pérez, Av. De la Unido Padre Luis Jácome.
Restaurants:
Chifa Luxi Lisi: Owner Lisi Luxi Av. Padre Luis Jácome , 099686
Restaurant el Porton: owner Torres Verenice Av Padre Luis Jacome 032885686
TAPAS Y TOPES: Miriam Fernandez, 032885712, Calle Juan de Velasco and Teniente Hugo Ortíz.
Escobar Café: Escobar Yankuamba Pedro, 032883008, escobar_amazonia@yahoo.com.
Operators:
Operadoras Selvavida Travel: OWNER: Luis Nuñez
Hayawaska Tour: Owner: Juan Carlos Freire
Native Jungle: Owner: Patricio Garcés
Rafting Tours
It is possible to depart from Quito to Santo Domingo, to the Amazon (Tena, El Chaco, Macas), north to Imbabura or the Baños area to find good sites for rafting and kayaking. Most agencies charge between USD 65 and USD 85 for a day trip. Rafting and kayaking destinations include:
Rio Toachi near Santo Domingo, only three hours by bus from Quito. With warm weather and water, they are within classes three and four allowing for exciting rafting throughout the year.
Rio Blanco, known for its large rapids, is three hours from Quito on the way to Santo Domingo. It has 45 km of rapids. It is best to visit between the months of February and June.
Rio Quijos is easy to access because it is on the route to the Amazon from Quito. The Quijos River belongs to class four and five rapids. Tours are available during the dry season, between October and February.
Rio Mira is about three hours north of Quito, near the province of Imbabura and the valley of El Chota, in the northern Ecuadorian Andes. It is generally classified in levels two or three.
Baños de Agua Santa is a small town that has a long experience in water adventure sports near the Amázonica jungle. Baños is about four hours from Quito by bus and rafting tours can be contracted within the city.
Upano River / Namangosa Creek. This trip passes through the Namangosa Gorge, which eventually reaches the Amazon. The tour starts with low level rapids and then increases in speed up to the sections where the rapids reach grade four or higher.
Napo - The upper part of the Napo River is a good bet for fun; the Jatunyacu River is another alternative. The Jatunyacu is available all year round. Travelers who wish to spend a lot of time rafting during their trip might prefer to stay in Tena, four hours from the city of Quito.
Rio Misahuallí very close to the Amazon city of Tena, this route crosses attractive jungles and remote canyons. Rafting can be done between October and March, during the dry season. The Misahuallí River is class four.
Rio Caoni and Alto Caoni is suitable for families who want to do rafting as it has gentler rapids of degrees two and three. The Alto Caoni is frequently used by kayakers who want to try one of the best rivers in Ecuador.
Salado River. Two types of rafting are common in this river. One is that of Aguas Salvajes, which runs with level three and four rapids in certain parts of the river. The trail runs through pure forests and usually also advances next to the Malo River waterfall. In addition, another route on the Salado River is La Planada, which is calmer.
Due River with class three to four rapids, along the river. The activity generally begins at Gonzalo Pizarro and ends at the Lumbaqui bridge. This route runs through jungles and crystal clear waters.
Rio Upano near Tena, a rafting in the Upano will show you the changing character of a jungle river. It starts in a shallow braided river and then chooses a route where the waters are divided into numerous canals. The best months to visit this river are from October to February.
El Pastaza and El Agoyán Composition made by Rodrigo Herrera Cañar in Postcards of Yesterday.
Live Tungurahua
Riobamba Mobile
Blessed Father Emilio Moscoso Cárdenas
Baños de Agua Santa Logo.
---
---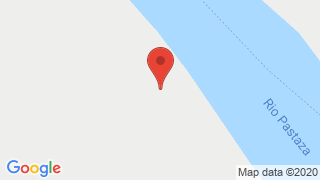 ---
Publicado en:
---
Publicado por: