Píntag
Píntag is known for its incomparable sunsets; they fill the sky with whimsical hues. This beautiful town is located only 35 km from Quito. Let´s go to Pintag!

Píntag's colors are violets, yellows, and golds, colors that flood its incomparable sunsets.
Píntag, Aloasí, Calacalí, Calderón, La Merced, Lloa, Mindo, Machachi, Pacto, Pedro Vicente Maldonado, Pomasqui are part of the Destino de Colores campaign, they are a select group of rural destinations of Pichincha province that offer to tourists a variety of tourism experiences oriented to contact with nature and culture; as well as sustainable and community tourism experiences.
Prefectura de Pichincha, through the Destino de Colores campaign, promotes the entrepreneurial spirit of Pichincha people
What should you know about Píntag?
Píntag is a rural town that belongs to Quito in Pichincha province .
Píntag is located only 35 km to the Southeast of Quito. To get there you can take the route Quito - Av. Rumiñahui - Píntag or Quito - Tumbaco - Pifo - Píntag.
This colorful town was founded in 1861 and bears the name of General Píntag who, according to historians, faced the Inca invasion. It is also said that once defeated, Huaynacapac ordered to make a drum with his skin.
Píntag is characterized by its agricultural activity, being a producer of a variety of cereals, legumes and vegetables. It also stands out in livestock, its fields being recognized for their industriousness and courage.
Píntag is also known for being the cradle of skilled saddlers who create beautiful horse saddles and jackets.
The main festivities are Corpus Christi and Inti Raymi.
Píntag is considered as the source of water supply for Quito
Píntag or General Píntag a place with a lot of history
It is located South of Quito, near the Valle de los Chillos. This area is characterized by the presence of the Antisana volcano and for being a land of páramo, hence it has multiple streams, that is why it is an important spring of water.
In pre-Columbian times, the cacique and national hero, General Píntag, known as the first "Ecuadorian guerrilla", chose this area as the base of resistance to the Inca invasion, especially to the attacks of Huayna Cápac. The name of this area was determined in honor of the Quito leader, who developed many strategies to fight the Incas for about 12 years.
During the Colony, the Dominican order began the evangelization of these territories, hence the patron saint of this territory is the Virgen del Rosario. In 1856, the President of the Republic, Gabriel García Moreno, declared Píntag as a parroquia.
The chacarera culture –related to knowledge of the mountains, riding skills and cattle management– is the hallmark of Píntag. For this reason, most of its inhabitants are experienced horsemen, renowned for their excellent sense of direction.
Antisana volcano
The Antisana volcano dominates the landscape. Its shadow caresses the streams, moors, grasslands and primary forests that cover Pintag. A complex of lagoons turns the area into a fascinating amalgamation of habitats.
Yanasacha
Yanasacha is a paramo area full of wildlife. If you go there you can see hawks, condors, rabbits, curiquingues and vultures.
Sincholagua volcano
The Sincholagua , is a rocky elevation surrounded by grasslands, it is ideal for trekking and spotting deer, pumas, wolves and the chuquiragua or "flower of mountaineering", while in the Secas lagoon, at 3,245 meters above sea level, you can fish trouts.
Activities in Pintag
Fishing, camping, hiking, viewpoints, panoramic views, restaurants.
The Muertepungo ("gate of death") and La Mica lagoons are a mandatory stop.

The first one is framed within a rugged landscape, optimal for horseback riding and hiking.
The second one is embedded in the slopes of Antisana.

In the Tipo-Pugro lagoon you can go boating, an unmissable activity if you are traveling with children. Be sure to visit the sanctuary of the Andean condor and hummingbird: the Antisana Ecological Reserve of 120,000 hectares.
The entrepreneurial flame is kept alive in Píntag
Traditions, culture and nature are the ingredients of the entrepreneurial flame in this paradisiacal town.
Rosalino Bautista, the last "pingullero" of Píntag
Rosalino Bautista, is probably the most recognized man in Pintag. He has dedicated his entire life to keeping alive the musical tradition of the pingullo (traditional music instrument) as well as making drums.
Rosalino says the pingullo is a wind instrument with two holes in the front and one in the back and is used to sing traditional melodies like the Sanjuanito (traditional songs). The sound of the pingullo is life and it is what motivates him to continue with this beautiful tradition.
It was his grandparents and parents who encouraged him to keep traditions alive and from whom he inherited all his knowledge.
He has been a community leader for many years, leading activities that seek the growth of Píntag.
Yanasacha Warmi
Yanasacha Warmi is the first group of amateur mountaineering women in the country, they offer trekking services in the sector.
This organized group of enterprising women sees the mountain as their school of life, their group is characterized by complicity at the time of their ascents; sorority and for the daily struggle to fulfill their dreams.
One of the routes that they enjoy the most is the Laguna de la Mica because unparalleled landscapes can be seen on the slopes of the Antisana volcano.
Gran Cascada de Pita Tourist Center
Lourdes Hidalgo explains that this ecological center was born 25 years ago.
If tourists are looking for adrenaline, they can find in this tourist center: canopy, tarabita, Tibetan bridge and the swing.
Those who visit this tourist place will be able to observe a variety of birds such as hawks, mountain guans, curiquinges and other animals such as rabbits.
It is a magical place that offers a variety of activities and natural attractions.
Paquita Bakery and Pastry Shop
Paquita Almeida, owner of this bakery and pastry shop, says that she has been in this activity since she was 10 years old.
Carlitos and empanadas are the favorites of those who visit this bakery.
Paquita tells us about her deep love for her land and her conviction to maintain the traditions of this beautiful rural destination in Ecuador.
Band of musicians General Rumiñahui
It is an emblematic band of musicians in the town. This music band is 101 years old and is always present in all kinds of celebrations.
The rhythms that the band plays are sanjuanitos, pasacalles, albazos (traditional songs)
Holidays and traditions
Festivities of San Jerónimo and the Virgen del Rosario
From September 13th to October 12th: This is the main celebration of Píntag. Many activities are organized for this festivity: Horseback riding, horse race, ribbon tournament, parade of quilts and trophies, herded bulls, lasso contest, cockfight, cultural and sporting events, election of the queen and fireworks.
On these dates, a special tribute to General Píntag is also carried out, through artistic events, parades, flower offerings, and popular dances.
---
---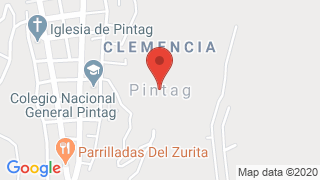 ---
Publicado en:
---
Publicado por: