Mindo tourism
A wonderful place to enjoy ecological tourism, adventure activities and unforgettable experiences. Discover how to get there and what to do in this paradise.








Mindo's colors are as varied as the iridescence of hummingbird wings, or the patterns on butterfly wings, or better yet, the green of its cloud forest.
Mindo, Aloasí, Calacalí, Calderón, La Merced, Lloa, Machachi, Pacto, Pedro Vicente Maldonado, Pintag, Pomasqui are part of the Destino de Colores campaign, they are a select group of rural destinations of Pichincha province that offer to tourists a variety of tourism experiences oriented to contact with nature and culture; as well as sustainable and community tourism experiences.
Prefectura de Pichincha, through the Destino de Colores campaign, promotes the entrepreneurial spirit of Pichincha people.
What should you know about Mindo?
Mindo is located about 80 km Northwest of Quito, the capital of Ecuador.
Mindo was recognized as " Bird Life or Important Bird " in America.
The distance from Los Bancos to Mindo is 22 km, approximately 24 minutes by car.
The temperature in the area oscillates between 15 °C - 24 °C throughout the year. The rains are common, but during the months of June to November the climate becomes drier.
From Santo Domingo the buses of the Kennedy company leave directly from Mindo to Santo Domingo at 6:30, 7:00, 11:00, 13:00, 14:00 and 17:00. However, this direct service runs a longer route (4 hours) passing through Puerto Quito and La Concordia. The fastest option is to get off at Los Bancos (30min) and take a bus that goes to Santo Domingo via Las Mercedes (2 hours).
If your flight leaves in the morning, it is advisable to travel the day before and sleep in Quito or Tumbaco, it is only 15 minutes from the airport and has a bus stop mentioned above.
From Quito Airport a taxi to or from Mindo will charge approximately $80 for the ride. If you want to get less expensive, you can go to Quito and take the direct shuttle that leaves every 20 minutes from the old airport for $8 or the bus that leaves from the Terminal Río Coca for $2 every 15 minutes with 5 stops along the way. These buses also leave for Quito in front of the air terminal.
From Quito try to get a seat on the right side to enjoy the best views of the trip.

Straight

The Flor del Valle / Cayambe cooperative offers this route has direct buses from the La Ofelia terminal in the north of Quito:
During the week: 8:00, 9:00, 16:00
Saturdays: 7:40, 8:20, 9:20, 16:00
Sundays: 7:40 a.m., 8:20 a.m., 9:20 a.m., 2:00 p.m., 5:00 p.m.
The terminal is a 30-minute taxi ride from La Mariscal, the tourist center of Quito , or you can also take the Metrobus.

Indirect

From the Carcelén terminal there are more frequent buses that leave in the direction of San Miguel de los Bancos or Esmeraldas. You can take any of these buses to Mindo's Y. Some of the companies are Kennedy, Alóag and San Pedrito.
All the buses go through the mall and roundabout of the County in the direction of " Mitad del Mundo ". There is also a stop there but there are not always seats.
At the "Y de Mindo" there are always taxis waiting for bus passengers and they cost from $3 for a private ride to $1 in a shared van.
Mindo Nambillo Protected Forest
It is located in a Mindo Cloud Forest valley, where 19,000 hectares are protected and is called the Mindo Nambillo Protected Forest; in this ecosystem inhabit some 500 varieties of birds and 90 species of butterflies. Likewise, in the Mindo reserve park, more than 170 species of orchids have been identified and bromeliads, heliconias, ferns, vines, mosses and lichens abound.
Despite being small in size, Mindo is home to some 500 varieties of birds and approximately 90 types of butterflies.
In addition, more than 170 species of orchids have been found.
The best time to visit Mindo Ecuador is probably between May and December, when the weather is drier, but no matter when you are in Ecuador, Mindo is a must-see.
There are many tours that will offer you a complete package of activities with trained guides.
Bird watching in Mindo
A birding guide is likely to cost around $30 for 5-6 hours, maybe more if they speak English, so you can get a group together to share the costs.
Sunrise and sunset are the best times to see many birds. If you are in Mindo at Christmas time you could take part in the annual Christmas Bird Count , an international event . In December 2007, 425 different types of birds were seen in the Mindo area in a 24-hour period.
Mindo Butterfly Farms
Mindo has butterfly farms, the most known is about 2 miles from midtown, you can get there by taxi for just $ 3 dollars per way.
Orchid Garden in Mindo
TThe best orchidarium ( orchid collection) is the Orchid Garden next to the corner of the sports field. Owners are passionate about orchids and offer a guided tour with all kinds of interesting details for around 1.50 dollars.
Hummingbirds in the Nathaly Garden
To see and photograph dozens of hummingbirds , the Nathaly Garden is the perfect place.
Mindo Lake
You can also see a lot of hummingbirds and some butterflies in Mindo Lake , a distance of 10-15 minutes walking down the road in the direction of La Y and the location for the frog concert, we recommend that you listen to it from 18:00 every day, which costs $2.50 including a glass of wine, a night walk around the ponds and woods to see frogs and nocturnal wildlife.
Mindo Lake features a large restaurant for dining and the ultimate in romantic dining, a "floating restaurant," a raft with table and chairs so you can dine while drifting across the small lake, which was created to attract wildlife and it is the ideal environment for frogs.
El Carmelo de Mindo
If you like horses you can rent them in various places around the city, for example in El Carmelo de Mindo , on the road past the sports field.
Many places around the city can organize walking and bird watching routes.
The hotel you choose can help arrange guides and some will even negotiate a discount for you.
Its biggest attraction is the Mindo tarabita and its waterfalls , an option for those who want to experience an activity full of adrenaline.
In addition to being ideal for bird watching , there are also ideal spaces for adventure sports such as mountaineering, horse riding, mountain biking, whitewater descent and rafting.
Ecoroute of Quinde
You can enjoy landscapes such as the cloud forest and the ruins of Tulipe, following the Quinde Eco Route .
Lodging in Mindo
Mindo has a wide range of accommodation for all budgets, from the most economical and cheerful through comfortable and rustic to luxury accommodation.
Our favorite is Mindo Lago, a handful of rustic cabins (cabanas) centered around a lake in peaceful surroundings.
For a group of eight people sharing the largest cabin, prices run from around $25 per person per night, up to around $38 per person in a double cabin, including breakfast, the "frog and frog concert" access to the butterfly house.
Mindo Gastronomy
Regarding gastronomy, the most requested dishes are: caldo de gallina criolla (chicken soup), lomo a la piedra, fritada (fried pork meat) , ceviche de palmito, trucha (river fish), maito (fish cooked in leaves) and fried tilapia (fried fish).
---
---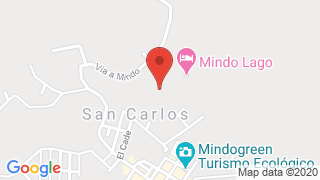 ---
Publicado en:
---
Publicado por: