Mindo tourism
A wonderful place to enjoy ecological tourism, adventure, fun in Pichincha - Ecuador. Discover how to get there and what to do in this paradise..






Mindo
The rural parish of Mindo belongs to the San Miguel de Los Bancos Canton in the province of Pichincha, is located about 80 km to the northwest of Quito, the capital of Ecuador.
Internationally, Mindo is recognized as "Bird Life or Important Bird "in the Americas.
The Mindo Valley has the following characteristics:
• Mindo Location: The distance from Los Bancos to Mindo is 22 km approximately 24 minutes
Mindo Climate: The temperature in the area ranges from 15 ° C - 24 ° C throughout the year. Rains are common, but during the months from June to November the weather becomes drier.
How to get there:

From Santo Domingo ($ 2.30 - $ 4.00) The buses of the Kennedy company depart directly from Mindo to Santo Domingo at 6:30, 7:00, 11:00, 13:00, 14:00 and 17:00. However this direct service travels a longer route (4 hours - 4 $) passing through Puerto Quito and La Concordia. The fastest option is to get off at Los Bancos (30min) and take a bus that is going to Santo Domingo via Las Mercedes ($ 2.30 - 2 hours).
If your flight leaves in the morning it is advisable to travel the day before and sleep in Quito or in Tumbaco that is only 15min away from the airport and has a bus stop mentioned.
From Quito Airport: The new Quito Airport is 1 hour away from Quito (between 3:00 p.m. and 6:00 p.m. calculate 2 hours). A taxi to Mindo will charge approx. $ 80for the race. If you want to get less expensive you can go to Quito and take the direct shuttle that leaves every 20 minutes from the old airport for $ 8 or the bus that leaves from the Rio Coca Terminal for $ 2 every 15min with 5 stops on its way. These buses also leave for Quito in front of the aerial terminal.
From Quito ($ 2.50) Try to get a seat on the right side for enjoying the best views of the trip.

Direct Flor del Valle / Cayambe cooperative offers this route and has direct buses from La Ofelia terminal in the north of Quito:

During the week: 8:00, 9:00, 16:00
Saturdays: 7:40, 8:20, 9:20, 16:00
Sundays: 7:40, 8:20, 9:20, 14:00, 17:00
The terminal is 30 minutes by taxi from the Mariscal, the tourist center of Quito, or you can also take the Metrobus.

Indirect

From the Carcelen terminal there are more frequent buses leaving in the direction of San Miguel de los Bancos or Emeraldas. You can take any of these buses until the Y de Mindo. Some companies are Kennedy, Aloag and San Pedrito.
▪ All buses pass through El Condad mall and its roundabout o in the direction of "Middle of the World ". There is also a stop but there is not always seating.
In the "Y de Mindo" there are always taxis waiting for bus passengers and cost about $ 3 per person or $ 1 in a shared van.
• Mindo, Protected Area: It is located in a forest valley, of which some 19,000 hectares are protected, and is called the Mindo Nambillo Protective Forest. This ecosystem is inhabited by about 500 varieties of birds and 90 species of Butterflies. Also in the reserve park of Mindo more than 170 species of orchids and bromeliads abound, heliconias, ferns, vines, mosses and lichens have been identified. Despite being small in extension, Mindo houses about 500 varieties of birds and approximately 90 types of butterflies. More than 170 species of orchids have also been found.
Mindo tourist attractions
The best time to visit Mindo is probably between May and December, when the weather is drier, but it doesn't matter when you're in Ecuador, Mindo is a must see.
There are many tours that will offer you a complete package of activities
With trained guides.
• Mindo Activities:
A birdwatching guide is likely to cost around $ 30 for 5 to 6 hours, maybe more if they speak English, so you can get a group together to share the costs. The sunrise and sunset are the best times to see many birds. If you are in Mindo at Christmas time you could participate in the annual Christmas Bird Count, an international event in which Mindo appears in most of the best 3 years. In December 2007, 425 different types of birds were seen in the Mindo area in a 24-hour period.
Mindo butterfly farms or 'butterflies': the most professional is about 3 km from town - a walk clearly signposted or a short taxi ride, it is not expensive for only 3 dollars the entrance. The best "orchid" (collection of orchids) is the Orchid Garden next to the corner of the sports field, the owners are passionate about orchids and offer a guided tour with all kinds of Interesting details cost around $ 1.50.
To see and photograph dozens of hummingbirds, the Nathaly Garden is the perfect place. It is signposted of the whole town and also It has butterflies and orchids, a tour through which it is included in the entrance price of 4 dollars.
You can also see lots of hummingbirds and some butterflies in Mindo Lago, at a distance of 10 or 15 minutes walking on the road towards La Y and the location for the frog concert, I recommend that you listen to it from 18:00 every day, which has a cost of 2.50 dollars including a glass of wine, a night walk around ponds and forests to see frogs and wildlife nocturnal Mindo Lago has a great restaurant for dinner and the latest in romantic meals, a "restaurant floating"- a raft with table and chairs so you can dine while drifting through the small lake, which was created to attract wildlife and is the ideal environment for frogs.
The Mindo Aquarium (Aquarium), which is near the church, does not will keep busy for more than about 8 minutes. Various operators in Mindo offer "canopy" tours or rides in
Zip line, most for a cost of $ 10 to $ 15.
If you like horses you can rent them in several places around the city, for example in El Carmelo de Mindo, on the road beyond the sports field. Many places around the city they can organize hiking trails and bird watching. The hotel you choose can help you organize guides and some even negotiate a discount for you.
Its biggest attraction is the tarabita of Mindo and its waterfalls, a option for those who wish to experience an activity full of adrenaline.
In addition to being ideal for bird watching, there are also ideal spaces for adventure sports like mountaineering, horse riding, mountain biking, descent whitewater and rafting.
You can enjoy landscapes such as cloud forest and ruins from Tulipe, following the Eco Ruta del Quinde.
Mindo waterfalls Nambillo waterfalls a beautiful Spa with crystal clear waters.
Mindo has a wide range of accommodation for everyone's budget, from the most economical and cheerful through comfortable and rustic to luxury accommodation with jacuzzi.
Our favorite is Mindo Lago, a handful of rustic cabins (cabins) around a lake in a quiet environment. For a group of eight people sharing the largest cabin, prices rage at around $ 25 per person, per night, up to about 38 dollars per person in one double cabin, with breakfast included, the frog concert and of access to the butterfly house.
Mindo Gastronomy: The typical local dishes were not created there, but the extraordinary seasoning of its people satisfies tourists. The most requested dishes are:

Creole chicken broth
Loin to the stone
Fried Pork
Palm heart ceviche
Trout
Fish cooked in maito (bijao leaves)
Fried, smoked or fruit sauce tilapia
My experience
They get really for canopying, a tourist attraction in Mindo, paradise of another time in Ecuador.
It rains in Mindo. That corner of Ecuador about 80 kilometers from Quito, in the province of Pichincha. Water falls in a continuous whisper feeding pastures and estuaries. Over there, the clouds slide combing sweetly the treetops. Or not. Or rather it is the forest itself the one who stretches exhaling all those mists, it is not known. Clonc!
The mist draws landscapes that could well be Jurassic, that could be those of "The Lost World", those of the hidden refuge that of those dinosaurs At the moment, only the flight of butterflies and hummingbirds attest about the proper passage of time. Clonc!
The mist draws landscapes that could well be Jurassic, that could be those of "The Lost World".
Below, the river has been dragging the excitement of those who dared to some adventure, and the same above, where the wires over the forest cloudy lead down howls, the river is dragging the excitement of those who dared with some adventure, and the same above, where the wires over the cloud forest lead the howls of the bravest ones.
Butterfly Sighting: Mindo Butterflies, Butterfly Garden, hummingbirds and Nataly orchids, you can appreciate the process of reproduction, life and metamorphosis of these incredible insects from eggs, caterpillar, pupa or chrysalis, until the transformation into butterflies.
---
---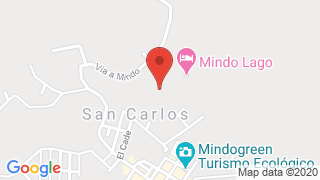 ---
Publicado en: