Province of Santo Domingo de los Tsachilas
In Santo Domingo de los Tsachilas - Ecuador visitors will find places for recreation and adventure also places to practice various adventure sports. Want to know more?






Santo Domingo Ecuador
Santo Domingo de los Tsáchilas an eminently cattle and agricultural province of Ecuador; surrounded by a tropical forests, rivers and waterfalls scenario that make it an ideal place for adventure tourism and various extreme sports.
In the colonial era it was known as part of the Province of Yumbos, due to the natives that resided in the sector, currently natives of the area live in community and offer experiences for tourists, activities that are related to the natives' community life, their daily life, and popularly is also known as Santo Domingo de los Colorados, for his reference to the Tsáchila indigenous community who paint their hair with a reddish-orange color.
Santo Domingo Province
Cantons
Tourist Places in Santo Domingo
Alluriquin: Known by the name of Tierra Dulce (Sweet Land) for having a gastronomic tradition in the preparation of sweets (marshmallows, peanuts, panela) and brandy, artisanal way made.
Congoma Commune: It is unique and striking because of its great diversity of birds, a great attraction when the melodies birds sing are heard.
Valle Hermoso (Beautiful Valley): It is a Santo Domingo canton rural parish, it has approx. 10,000 inhabitants. It is at a height of 307 meters above sea level and the average temperature is 25 ° C
La Perla (Pearl) Protective Forest: It is considered one of the most important in the area for its flora and fauna. Located 40 km from Santo Domingo de los Tsáchilas. It has approx. 250 hectares of forest.
Peripa Commune: A sacred place where they used to baptize the Pone (Shamans). They called it Sanctuary
Alluriquin Route of the waterfalls and howler monkeys: It is a communal route through 7 waterfalls and it is the entrance to a primary forest where you can make the guided observation of howler monkeys in the area.
The Tapir Island Zoo: It started as an animal rescue site but its organization carried out the zoo project.
Las Pirámides Baths: Its main feature in which its river lands a rock with the face of a monkey, located in the parish Julio Moreno
San Gabriel de Baba Pier: recreational areas, nature, traditional cuisine
Las Vegas spa. A natural spa with suspension bridges.
El Pulpo (Octupus) Water Park: A spa that has the largest slide in Ecuador
Climate in Santo Domingo de los Tsáchilas
The climate is tropical in Santo Domingo de los Tsáchilas. The province has significant rainfall most months, with a short dry season. The average temperature in Santo Domingo de los Tsáchilas is 22.8 ° C.
Santo Domingo de los Tsáchilas Gastronomy
The Province typical food is linked to the area migration. We can say that there are clearly no typical or representative dishes form the area, but we can talk about some delicacies from this part of the country that share culture with other parts of the nation.
The roasts of this province are remarkable dishes that they like and are scattered throughout the province, mainly they are roasts of beef and pork that are accompanied by rice, roasted green plantain and lentil stew or beans. Another popular food in the region is cane juice that is sometimes served with a little panela and lemon.
During the visit to the Tsáchilas communities we can also appreciate typical dishes of these communities such as: trout maito with banana leaf, dish that is traditionally served as the maitos of the Amazon region, accompanied by cassava, roasted green banana, pickled rice and rice .
Santo Domingo de los Tsáchilas Culture and traditions
This province's culture and traditions are linked to its deeply indigenous past, it is that even today when visiting Tsáchilas communities we can appreciate the culture and traditions maintained by these peoples in ancestral rites such as that of their "limpia" (clean) which is a Welcome accompanied by the Community´s sage or sorcerer who welcome visitors with magical dances and rituals. In the communities we can also appreciate native music and dance that accompanies the Tsáchilas' daily activities of the
Kasama is the only Feast celebrated by members of the Tsáchila ethnic group. In the Tsafiqui language, "Kasa" means new and "ma" day, so Kasama is the beginning of a new day or new year.
The Kasama, celebration marks the beginning of a new year, which always coincides with the Sabbath of Glory (for Catholics), it represents much more than the New Year celebration for Westerners.
Formerly this celebration was used to ask for a girl's hand, while the marimberos delighted audiences with their music, they drank special drinks and they organized fights.
Nowadays, dance, theater, music and native competitions of the nationality are held, there are also demonstrations of hunting and fishing skills.
Santo Domingo de los Tsáchilas History
Founded date: November 6, 2007
This region was inhabited by the Niguas, Yumbos and Tsáchila. Its territories, almost entirely unexplored, were legally in charge of the Government of Caráquez, but after the dissolution of this entity, their territories were directly related to the political administration of the Quito Corregimiento and the Atacames Governorate geographical administration, also denominated as Government of the Emeralds. In the eighteenth century the area entered a stage of reduction and withdrawal of native inhabitants.
The demographic explosion of this territory has to do with a decree that would be issued during the Republican era. It ordered the search for roads to the ports of Esmeraldas and Manabí. Since that moment the town of Santo Domingo de los Colorados would be founded and the construction of roads to the Litoral region would serve to establish this province as a province of passage between Sierra and Litoral.
During the 1960s and after opening the Aloag - Santo Domingo highway, the population of this province would see a demographic, commercial and economic explosion that years later would help this territory to request its provincialization.
---
---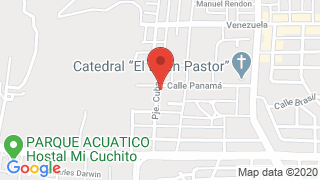 ---
Publicado en:
---
Publicado por: