Pailón del Diablo
The Pailón del Diablo is an impressive waterfall. Find all the information about this tourist place. Baños -Tungurahua - Ecuador.







Its name of The Devil's Pan originates in the shape of the rocks that exist under the waterfall and if you look closely you will see the shape of the devil's face that is formed in the rocks. Although its name scares a little, it can be safely said that this waterfall of Baños, is one of the more visited by tourists in Ecuador.
A trip to this place will provide pleasant moments. Keep discovering what this corner of the Sierra region holds for you, seek new adventures to live on holidays.
Pailón del Diablo, admission is FREE.
Pailón del Diablo, Baños
The name by which it is known is Pailón del Diablo Cascada, this
Has been its common name, but really its name is Cascada de Río Verde.
Today it is recognized as an icon of tourism in Baños de Agua Santa for its incomparable beauty.
Tourists who know this waterfall refer to it with pleasure and They emphasize being delighted with their landscapes.
Devil's Pan
Pailón del Diablo. Where is it?
The Devil's Pan is located in the province of Tungurahua specifically in the beautiful city of Baños in the Parroquia Río Verde, hence its original name of Río Verde Waterfall. It has a distance of 17 Km from the Baños - Puyo road.
The Pailón del Diablo Waterfall
How to get therer
From Quito to Baños de Agua Santa - Travel time 3h approximately
From Guayaquil to Baños de Agua Santa - Travel time 5h approximately

The destination is Baños de Agua Santa, for this you must go through Riobamba and Ambato in your own car, or by taking any of these buses:

Transportes Baños
San Francisco
Flota Pelileo
Riobamba

From Baños de Agua Santa to Pailón de Diablo

By Bicycle

We recommend you to get off by bicycle, do not worry about the cars of the place, they are already accustomed to the bicycle circulation to Pailon del Diablo.
If you prefer this option, do not worry about the climb, you can do it in some trucks that are constantly waiting to get around with your bike until the entrance of the park.
There is an option that fits your budget since it is a Free Bike Tour, departs all
mornings from Baños (in front of the Geotours agency) reaching the Pailon del Diablo.

In your own Car

First you must go through the Baños - Puyo Highway. Travel Time Approximately 30 minutes.
Then you must reach the entrance to Pailón Park Grieta al Cielo
You must walk for a few minutes and arrive at the place
Reference of the entrance to Pailón del Diablo, on one side of the Catholic Church of Río Verde and we cross the bridge of the town.
Pailón del Diablo Ambato
Pailón del Diablo. Height: approximately 80 meters high, being considered for this one of the biggest leaps within the Ecuador
Pailón del Diablo waterfall
Pailón del Diablo Activities
Suspension bridge: this bridge was created by the inhabitants of the place in their marketing needs. From here you can see the riches of the place like abundant vegetation, beautiful landscapes surrounded by nature that will bring tranquility to your life.
Go through the Grieta del Cielo. To go through the place you must go halfway inclined, this crack is of natural origin and is crossed here to get to the balcony of Pailón del Biablo, once here you can take a break and rest. Continuing you will appreciate some wonderful rock steps, thus reaching a second balcony, being this the best since from here you can touch the crystal clear water from the waterfall, get wet, feel the adrenaline that fills you when you feel so alive and surrounded by nature.
Photography. For photography lovers this is a great option since in one place you can find a million beautiful things to capture through your camera lenses.
Pailón del Diablo Ecuador
Pailón del diablo Price: Remember that the entrance is free of charge.
In the Pailón del Diablo de Baños you can see 3 waterfalls, thus demonstrating all its attributes in all its splendor. Those who arrive at the waterfall say that the shape of the rock has a resemblance to a lying face of the Prince of Darkness, and that is the reason for its name. To appreciate this face you must look from the suspension bridge.
Pailon del Diablo Weather
In the place the temperature ranges between 10 and 28 ºC.
The crystal clear water of this charming waterfall is 23 ºC.
Pailón del Diablo Flora and Fauna
This attractive place is rich in vegetation such as ferns and mosses, this is due to the humidity that surrounds it. That is why the view of it is characterized by being covered in a green color, there is also a large amount of trees, orchids, and more.
Like its lush vegetation, the place also has an outstanding fauna, among them: macho monkey, spectacled bear, tapir, puma, porcupine, jaguar, guanta, anteater, etc.
Pailón del Diablo History
1992
The Guevara family, coming from Río Verde, had the idea of creating ecological trails, with effort they managed to do it after several years. These trails were created so that those who visit the place can admire the waterfall more accurately. The family did not receive much support since they didn't believe that this was going to work, claiming that this would be an illuse project.
Today the place is of fundamental importance for the inhabitants of Río Verde, since this gives them 90% in tourism. The Guevara family when carrying out the project thought of a legacy that they could leave their grandchildren and other family succession.
Construction of the Suspension Bridge
This construction was headed by Mr. Vicente Zamora but also the owners of nearby lands helped with the work. All this in order to be able to transport their agricultural products and to be able to appreciate the waterfall when passing through the place.
14 years of hard work
---
---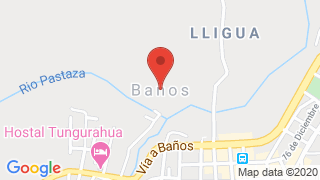 ---
Publicado en:
---
Publicado por: