Zamora city
Zamora - Ecuador, is considered a jungle paradise, a place that offers biodiversity of fauna and flora, adventure activities and much more, find details about the city here.

Zamora
The canton Zamora is considered a jungle paradise, its tropical flora and fauna exert a dazzling attraction in its valleys that extend past the foothills of the sub-Andean mountain ranges.
The nature and friendliness of its inhabitants is complemented by its excellent cuisine, in typical fish dishes such as tilapia, carp, and the delicious and exotic frog legs.
Getting caught up in the charm of the thick vegetation and walking through its landscapes is a dream adventure.
Zamora Canton
Cantonization Date : October 6, 1549.
Zamora de los Alcaides, Capital of Paradise
The nature and friendliness of its inhabitants is complemented by its excellent cuisine, in typical fish dishes such as tilapia, carp, and the delicious and exotic frog legs. Getting caught up in the charm of the thick vegetation and walking through its landscapes is a dream adventure.
Tourist Places
Shuar Communities: The Shuar, like other Amazonian peoples, have practiced itinerant agriculture based on the successive planting of different lands.
Monument to Naya or La Chapetona: The main character of the literary work of the same name, written by the priest Lojano Manuel Belisario Moreno.
La Poderosa Waterfall: This natural setting is located in the Podocarpus National Park. Well known by tourists who arrive daily to him.
La Chismosa Waterfall: This waterfall is one of the attractions found in the Podocarpus Park .
Chorrillos Waterfall: It has an impressive fall of 10 m form where every drop of its waters is totally crystalline and pure.
Podocarpus National Park: It has lush vegetation. There are more than 4,000 species of plants and an infinite variety of orchids. .
Zamora Ecuador
Cultural attractions
The most important attractions of the city are:
Zamora boardwalk
Zamora Cathedral
Tzanka Ecological Shelter
Bombuscaro Recreational Center and others.
Giant Clock (one of the largest clocks in the world) located in the Loma del Tío Lucho, at the foot of the Tres Cruces Hill and occupies an area of 1600 m² of slope.
Natural Attractions
From the Sabanilla parish on the Loja - Zamora road, there are many waterfalls of the different tributary streams of the Zamora river, the most striking are:
La Gentil Waterfall
Waterfall Mantle of Bride
The Rapid Waterfall
Chorrillos Waterfall (the largest of all).
Zamora Weather
The climate is tropical. With a lot of rain in Zamora, even in the driest month. The average annual temperature is 22 ° C..
Zamora gastronomy
These are some typical dishes and cuisine of the Capital of Paradise
Frog legs: traditional legs are breaded, fried, grilled or garlic. They are served with rice, patacones, french fries and salad. Some make, even, ceviche, sancocho or frog noodle.
Fried tilapia: served with rice, tilapia, patacones and a good salad. Tilapia is a low-fat meat in addition to containing protein, vitamin B, calcium and phosphorus.
Ayampaco: made with chicken meat, beef, pork, fish or pork or beef viscera that are sewn a little and then wrapped in bijao leaves and grilled. It is served with cassava, banana, papachina and salad.
Ground green banana: prepared based on green banana, onion, salt, dressings, oil or butter. It consists of a mixture of crushed banana with a wooden mallet and refried with onion with salt and dressings, usually accompanied with pork rinds or cheese
Zamora typical drinks
Chicha: Traditional drink prepared from cassava or chonta. It consists mainly in the ferment of these.
Agua de guayusa: A drink prepared with Guayusa and panela, with an exquisite flavor.
Liqueur 7 pingas: traditional liquor prepared with guarapo, bull nerve, leg and beef tongue accompanied by tropical fruits.
Tiger milk: traditional drink of the province, prepared with milk, brandy, sugar and cinnamon. It is served cold or hot.
Zamora desserts
Marshmallows: prepared with panela and peanut, typical of the parish of Timbara .
In addition, Zamora has dishes such as: corroncho broth (fish from the area), tilapia, Creole chicken broth, among others.
Además, Zamora cuenta con platos como: caldo de corroncho (pez de la zona), tilapia, caldo de gallina criolla, entre otros.
Zamora Culture and Traditions
Ecuadorian Orient Day - February 12
Zamora Foundation - October 6
Festivities of the Virgen del Carmen - July 16
Feasts of the Virgin of the Swan - August
Recreational sports festival Chontita Deportiva or Inter
Jorgas - first week of September.- with the participation of organized youth groups and countless popular and recreational games such as: cycling circuit, car circuit, motorcycle cross, buoys regatta, rafting and kayaking exhibition
Binational Fair of Ecuador-Peru border integration - November 1 to 10
Intercollegiate science and technology fair - June
Zamora Biodiversity
Flora

In its forests you can find an Edenic biodiversity in which fine wood trees in danger of extinction and of importance for the wood industry stand out, such as: romerillo, guayacán, laurel, pituca, camphor, aguacatillo, yumbingue, almond tree, among others.
Among the epiphytes mostly of ornamental value, we have: orchids, araceae, bromeliads, among others.
Several crawler, vine and climber species. Some aquatic plants in its ravines, lakes and lagoons.
Medicinal, aromatic and hallucinogenic plants : guayusa, natema, guabiduca, blood grade, carqueja, horsetail, among others.

Fauna

Mammals: pumas, jaguars, tigers, spectacled bears, dantas, white-tailed deer, Andean wolves, river wolves, capybaras, bales, agoutis, armadillos, coatis, peccaries and a variety of monkeys, among others.
Birds: gallos de la peña, jocotocos, orioles, guácharos, hummingbirds, parrots, peacocks, toucans, hawks, owls, eagles, woodpeckers, kingfishers, herons, grouse, partridges, pigeons, among others.
Zamora Political Division
Urban parishes: El Limón and Zamora.
Rural parishes: Imbana, Sabanilla, Timbara, Cumbaratza, San Carlos de las Minas and Guadalupe
Zamora history
The current human settlement known as Zamora was definitively established by mestizo and white settlers from the provinces of Loja, Azuay and El Oro until March 12, 1921, when the Apostolic Vicariate of Zamora resurfaced after many frustrated attempts for the attacks and uprisings of the Shuar. It should be noted that there were two previous Spanish foundations with the name of Zamora in different locations in the province. The first foundation was carried out by the Spanish Hernando de Barahona on October 6, 1549, and was named in honor of the Spanish city where he was born, which bears the same name.
The oldest data we have about when Zamora was elevated to the parish category occurred in 1868, with Miguel Manríquez being the first parish judge of Zamora, years later the attempt to restore this colony ended due to the irruptions of the Shuar commanded by Chiriapa. In 1883, the parish was restored, Mr. Manuel Reyes being his first Political Lieutenant.
Until the 1930s, Zamora remained a village with a few houses around it, but after this period it began to expand.
---
---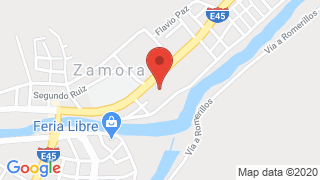 ---
Publicado en:
---
Publicado por: