Quito´s Handicraft Market
The "La Mariscal" Handicraft Market, located in the northern center of Quito, is the main reference of Ecuadorian handicrafts. Tourists come to this place looking for a souvenir as a testimony of their visit to Ecuador.


What should you know?
It is located on Reina Victoria and Juan León Mera Streets, where the entire range of artisanal creativity in the country come together.
It´s open from Monday to Saturday from 8:00 a.m. to 7:00 p.m. and Sunday until 6:00 p.m.
The nearly 200 venues established there, sell countless products ranging from handicrafts, musical instruments, clothing, jewellery to food.
Visit the craft market and discover the crafts of Ecuador.
Marco Quishpe, president of the Artisan Market, says that domestic and foreign tourists find, in this market, handicrafts for all tastes and at comfortable prices, ensuring that the fabrics, embroidery, hats, leather bags, silver jewellery, among others are the most demanded crafts. About 1500 people arrive to the market daily; while in high times like August-December, 2000 visits are exceeded daily.
The bright colors of the fabrics and embroidered garments, tapestries and paintings mixed with the wonderful and fine jewellery designs in silver or made with seeds brought from the Ecuadorian Amazon make a contrast in this market combined, also, with musical instruments like quenas, rounder, ocarinas.
Marco Quishpe recalls that before the artisans sold their products on Amazonas Avenue and surrounding streets of La Mariscal sector but, after the Municipality of Quito conducted a census to verify how many artisans existed in this place, they were relocated in "La Mariscal" Craft Market to provide a better image and service to visitors. The craft centre was inaugurated on May 12, 2000.
Four years later (2004) the unexpected happened: A fire almost consumes the entire market, but it was rebuilt immediately, since in that year, Quito hosted the Miss Universe event and received 81 beauty queens from around the world. "This disaster became a great opportunity for us, transcending nationally and internationally, as all the media made reports of what happened and how the reconstruction progressed," said Maricel Romo, co-founder of the Artisan Market.
Currently the Artisan Market has 194 stores; where the visitor can find an infinity of handcrafted products with raw materials that are still prepared using ancestral indigenous techniques.
Don Marco is a goldsmith, and tells that his hobby comes from a family tradition. First, was his grandfather and then his father who worked in silverware. He is son of one of the founders of the Artisan Market, so he started in this profession at a very young age, 15. "Tourists, especially Europeans and Americans, really appreciate handwork, they love it," he adds.
Thus, each craftsman tell their story and dedication to keep ancestral customs and traditions alive through their products, knowing that they are a fundamental part of Ecuador's potential tourism that it´s shared with our compatriots and with the whole world.
Quito´s Touristic Places that may interest you
Quito's Historic Centre
El Panecillo
La Ronda
La Compañía de Jesús Church
Seven Crosses Street
The Basilica of the National Vote
The Metropolitan Cathedral of Quito
The City Museum
Alberto Mena Caamaño Museum of Art and History
Sucre´s House Museum
Central Bank Museum Camilo Egas
National Museum of the History of Medicine
Miguel de Santiago Museum of the Convent of San Agustín
Geobotanical Reserve of Pululahua
Tumbaco Central Park
Churches and Chapels
Cununyacu Municipal Spa
Ilaló Volcano
El Chaquiñán
Tulipe Ceremonial Centre
Hidden Route
Perucho Waterfall
Eco Route Paseo del Quinde - Cycling
Teleferico Quito
Carolina Park
Vulcano Park
---
---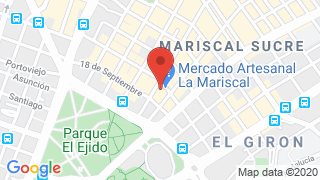 ---
Publicado en:
---
Publicado por: