Ecuador Luxury Amazon Cruise 5 Days
Organized by: Tour Operator with 27 years of experience and expert in tailor made Tours in Ecuador, Galapagos Islands and South America.
ECUADOR CRUISE ON BOARD A LUXURY FLOATEL
Day 1. QUITO ~ FLIGHT TO THE AMAZON, TO COCA ~ NAPO RIVER
Flight from Quito to the Amazon city of Coca then motorized canoe transfer to a Luxury M/V Amazon Floatel. Depart for an amazing Cruise on Napo River. Briefing about the Floatel, its facilities and the Amazon ecosystem, the program. Lunch on board.
After dinner, night forest walk to observe its nocturnal activity and experience its noises and aromas that come from so much biodiversity. Overnight on board.
Day 2. YASUNI NATIONAL PARK FAUNA ~ CANOE RIDE IN BLACK LAKE ~ RIPARIAN GALLERY FOREST
Early in the morning, we will start discovering the well-known Yasuni National Park, Biosphere of the Planet, home of the legendary Pink River Dolphin and walking in its primary forest, possible observation of anacondas, various monkeys, as well as the colorful Hoatzin, a unique bird known locally as the "Stinky Turkey". Lunch on board.
In the afternoon, canoe ride in a black water lake, habitat of giant otters, the magnificent manatee, river turtles etc. Then pleasant hike in the Riparian/Gallery Forest and possibly spot a flock of birds, a colony of leaf-cutter ants and other inhabitants by the giant Fig and Kapok trees, truly homes to wildlife abundance.
Day 3. KICHWA FAMILY ~ COOKING CLASS ~ HANDICRAFT MAKING
Visit to a Kichwa family home on Napo river banks. During the slow boat ride upstream on board the M/V Floatel, lunch, leisure time to enjoy the Amazon landscape, nature and participation in a cooking class with our chef, who will share recipes of exquisite traditional Ecuadorian meals. And/or you will be invited to learn how to make traditional handcrafts. Dinner and night stay on board.
Day 4. FOREST ADVENTURE ~ OBSERVATION CANOPY TOWER
Cruise relaxing time during the morning, then disembark to explore the nearby forest, and walk to discover a myriad of different animals and plants. Lunch on board. In the afternoon, climb up to a canopy tower, built against a giant Kapok tree providing an incredible view of the Amazon Basin. Canoe river ride by night to search for black caimans. Dinner and night stay on board.
Day 5. RETURN TO COCA ~ FLIGHT BACK TO QUITO
Return trip onboard the Floatel, then motorized canoe transfer to Coca, and flight back to Quito.
The Activities of this program may change according to the lodge and weather conditions.
Tour operated by: Tour operator and travel agency with 27 years' experience and experts in tailor made tours in Ecuador, Galapagos Islands and South America: Peru, Colombia, Bolivia, Chile, and Argentina…
Their services are top notch, personalized and the quality and variety of their tours are amazing.
They take pride in showing their customers the most beautiful and unique places in each country, in providing them the most professional tourist guides, the most charming local hotels, the best Galapagos cruises or Amazon cruises and tours, the cheapest air tickets… in order to make your tour an unforgettable life experience.
Their very professional staff remains at your disposal in fluent English, Italian, Spanish or French.
---
---
---
---
---

















Desde:
$3,135.00 USD
por persona
---
---
Seleccione los participantes:
Buscar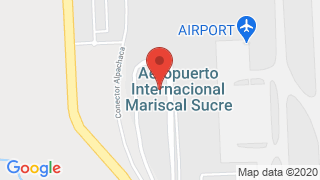 ---