Ecuador Amazon Yasuni Tour 5 Days
Organized by: Tour Operator with 27 years of experience and expert in tailor made Tours in Ecuador, Galapagos Islands and South America.
AMAZON PROGRAM IN STANDARD LODGE
Day 1. QUITO ~ AMAZON: EL COCA ~ YASUNI NATIONAL PARK
Flight to the Amazon to El Coca airport. Transfer to the Yasuni National Park. Box lunch. Our guide will give a brief history of the City of Coca and the Rio Napo.
Arrival to the forest then walk to begin discovering its ecosystem. Canoe paddle on Yuturi Lagoon to the Lodge. Dinner, overnight stay in the Lodge.
Day 2. AMAZON: STROLL IN THE FOREST ~ CANOE RIDE
Early morning breakfast. A walk on the "Wangana" or "Pericos" Trail where you can see parrots, parakeets and other animals. Canoe transfer to the lodge for lunch.
After lunch a canoe paddle around the Yuturi Cocha (Lake Yuturi), to enjoy the wildlife and to climb up the observation tower to spot a variety of birds, monkeys and sloths.
Dinner. Night walk to look for monkeys and many other creatures, insects, etc. or unique activity at Napo river, onboard an ancestral Indian catamaran to know about their legends and traditional chants, while women grill some food in the fire. Overnight stay in the Lodge.
Day 3. AMAZON: CEIBO TRAIL ~ SHAMAN OR NOCTURNAL CANOE
Early morning breakfast. Canoe paddling up the Rio Yuturi to the Ceibo Trail. A walk on the trail for about 2 hours. Return to the Lodge for lunch. At night a shaman from the local community (when available) will demonstrate shamanism or paddle around "Añangu" stream, a black water ecosystem where you can spot monkeys, caiman and possibly giant river otters trying to catch fish. Overnight stay in the Lodge.
Day 4. AMAZON: PIRANHA LAKE ~ PINK DOLPHINS OR HIKING FOREST
Early morning breakfast. Trip to Pañacocha Lagoon. Canoeing across the lake, walking and then transfer by motorized canoe to enter the extensive Pañacocha (Piranha Lake) system. You may spot Pink River Dolphins, sloths, monkeys etc. Lunch on the canoe. Return by canoe and walk to the lodge crossing the Yuturi Cocha by paddle canoe. Dinner, possible night paddle around the lake.
Or, hiking in the forest at "Samona" trail, in the middle of century old kapok trees, you may spot under the leafs to spot bizarre insects, birds, monkeys and possibly reptiles. Lunch. Upon arrival at the lodge, a traditional typical Amazon dinner awaits.
Day 5. AMAZON: YASUNÍ ~ EL COCA ~ RETURN TO QUITO
Breakfast on the canoe or in the lodge then transfer to El Coca airport to take the flight back to Quito.
The Activities of this program may change according to the lodge and weather conditions.
Tour operated by: Tour operator and travel agency with 27 years' experience and experts in tailor made tours in Ecuador, Galapagos Islands and South America: Peru, Colombia, Bolivia, Chile, and Argentina…
Their services are top notch, personalized and the quality and variety of their tours are amazing.
They take pride in showing their customers the most beautiful and unique places in each country, in providing them the most professional tourist guides, the most charming local hotels, the best Galapagos cruises or Amazon cruises and tours, the cheapest air tickets… in order to make your tour an unforgettable life experience.
Their very professional staff remains at your disposal in fluent English, Italian, Spanish or French.
---
---
---
---
---
















---
Desde:
$1,525.00 USD
por persona
---
---
Seleccione los participantes:
Buscar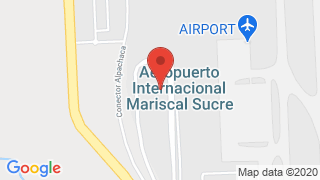 ---