Vilcabamba tourism
Vilcabamba a rural parish of the Loja canton, famous for its valleys full of longevity, privileged climate, lush vegetation. A magical town where time seems to stand still.
Vilcabamba, longevity valley
Vilcabamba Ecuador.- One of the main attractions that Vilcabamba has is biodiversity, which is why it offers its visitors the possibility of adventure activities in the cloud forest and in the moor where there are giant waterfalls, merging ecotourism with adventure.
What should you know?
Vilcabamba is located 45 km from the Loja city.
Vilcabamba climate. Its temperature ranges between 13 and 24º C.
Vilcabamba population 5,000 inhabitants, older adults calmly exceed the age of 100
Buses to Vilcabamba depart every hour from Loja station at $ 1 cost
Vilcabamba means in Quichua "Sacred Valley", it is recognized for its lush vegetation, its pleasant climate and the longevity of its inhabitants, which is attributed, among other factors, to the properties of water.
Vilcabamba biodiversity is one of the main attractions that Vilcabamba has, which offers its visitors the possibility of hiking, horseback riding, excursions through its gigantic waterfalls, its cloud forest and its moor.
You can visit the Yambuara recreation area, a small zoo where local animals are exhibited and a large greenhouse with a large variety of orchids.
Visitors cannot fail to try the delicious pea soup with guineo, pork jerky, chicken stew, dried goat, Creole chicken broth, potato leather, sancocho, honey with cheese, stew, the typical filtered coffee, mote , humitas, tamales and sango.
Vilcabamba, something to remember
When choosing a destination to set course on a trip, several factors come into play: your tastes, your budget, the time you have ... and what you've heard about the place. There are places we all want to go through at some time in life. Who has not imagined in front of the pyramids of Egypt or climbed into the Empire States of New York?
However, there are times when your goal is ... something different. The only thing you are looking for is to disconnect from everything ... to reach an unknown corner, without hundreds of lights and stimuli that distract you. A place where time stands still and you forget if in "your other life" you are a consultant, plumber or librarian.
A place where you can get lost ... to find yourself.
Because for many of us, travel is tremendously therapeutic. They are not so much physical displacement, as internal trips.
A place where you can get lost ... to find yourself.
The Vilcabamba valley extends about 52 km from Loja city and it is known as the "Longevity Valley".
Its rivers are loaded with minerals that they say that prolong life. In fact, in the town there is a gerontological organism trying to discover the secrets of the valley eternal youth. You do not know if your passage there will have been able to extend your life, but what you have experienced in your own skin is that feeling of coming by and wanting to stay for several days. Now you understand why they call it "Atrapabamba".
Someday you would like to know what are the conclusions of the research on the longevity of the area, although for you they are very clear: a beautiful mountainous environment to walk, a clean river in which to bathe, wooden houses in which to pass the night to enjoy nature in the park of Rumi Wilco, locals who always smile at you and say good afternoon, delicious food, wonderful sunsets and above all ... tranquility, tranquility. Now you understand why they call it "Atrapabamba".(Valley that catches)
Cerro Mandango is your main tourist activity.
Vilcabamba activities In Mandango hill you can perform activities such as: hiking, horseback riding, trekking.
---
---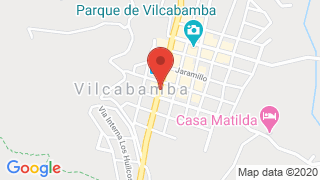 ---
Publicado en: